The Short Answer:
Derechos are fast-moving bands of thunderstorms with destructive winds. The winds can be as strong as those found in hurricanes or even tornadoes! Unlike hurricanes and tornadoes, these winds follow straight lines.
When you think of storms with strong winds, you probably think of spinning storms like hurricanes or tornadoes. But did you know there are types of thunderstorms that can have winds just as strong? These storms are called derechos.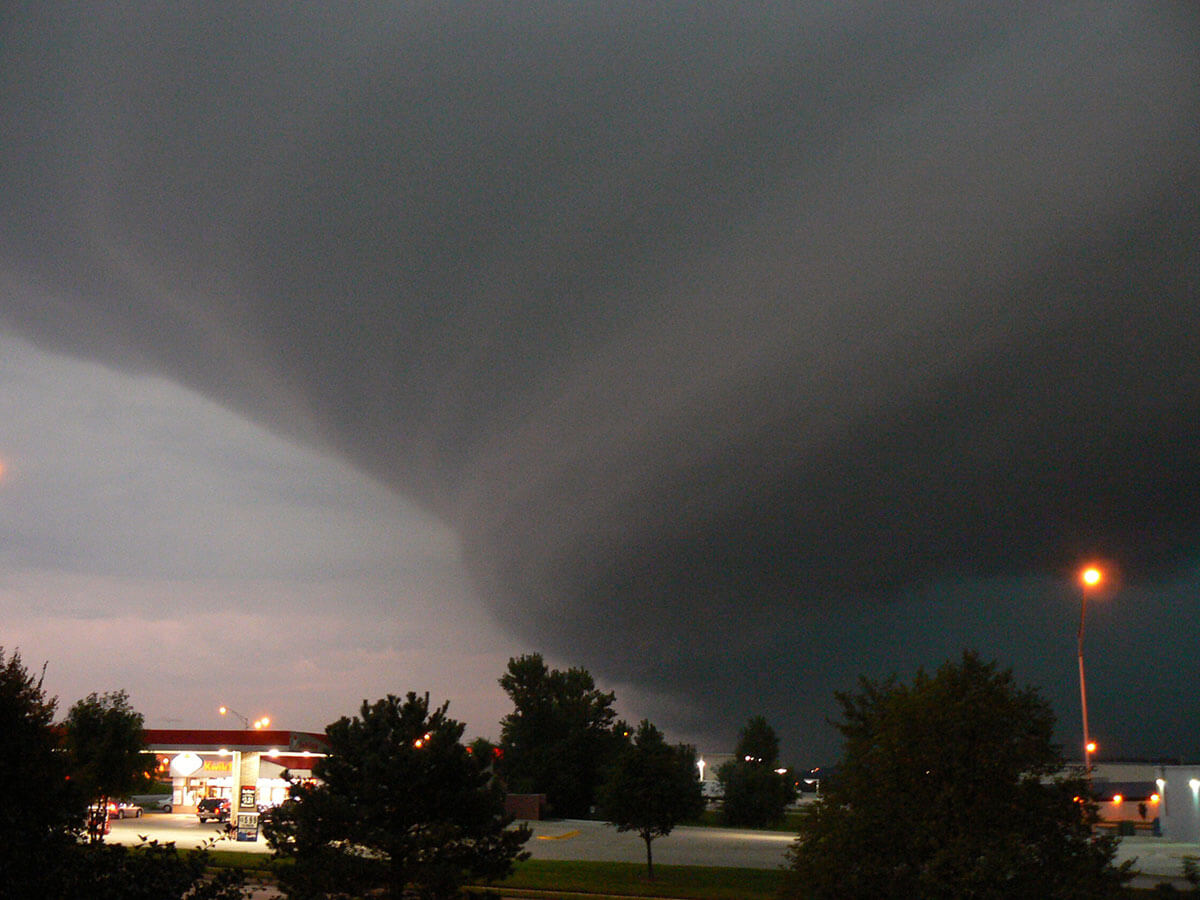 Derechos (pronounced like "deh-REY-chos") are fast-moving bands of thunderstorms with destructive winds. The winds of a derecho travel at least 58 miles per hour and have been recorded as fast as 130 miles per hour. That's as fast as some tornados! But instead of spiraling like a tornado or hurricane, the winds of a derecho move in straight lines. That's where the storm gets its name; the word derecho means "straight ahead" in Spanish.
What causes a derecho?
It all has to do with something called a downburst. When the wet air in a thunderstorm meets the drier air surrounding it, the water in the air evaporates. When water evaporates, it cools the air around it. Since the cool air is denser, it rapidly sinks to the ground and creates strong winds called downbursts.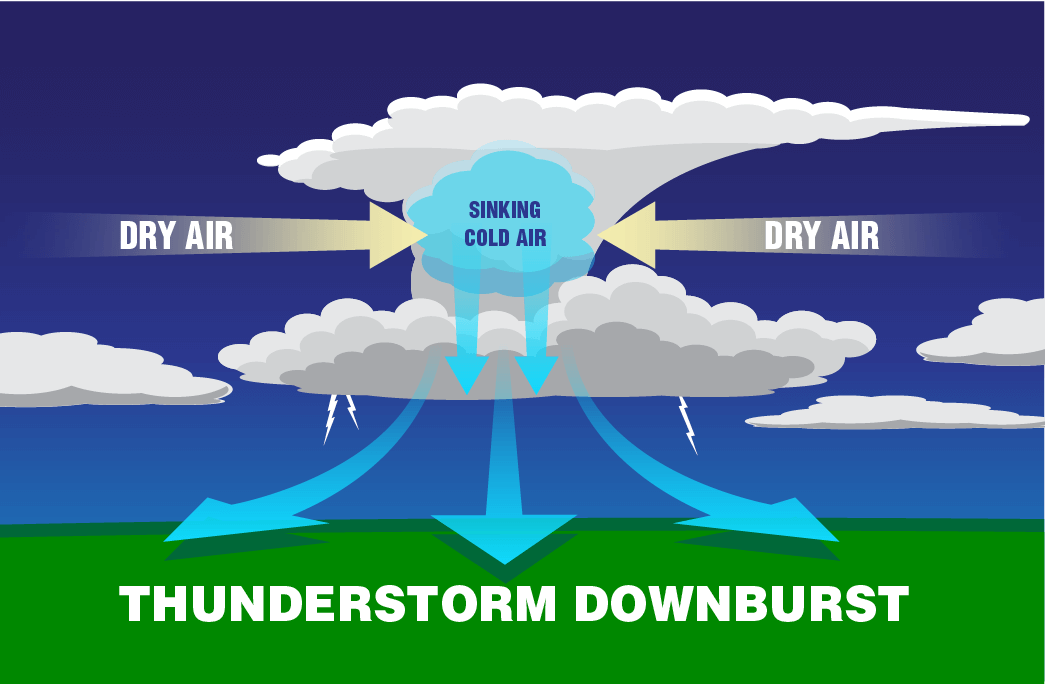 The downburst can actually suck more dry air into the storm, making even stronger downbursts or clusters of downbursts. Derechos happen when the right conditions for downbursts occur over a wide area. In fact, a derecho's path of damage is at least 240 miles long. That's a huge storm!
As the storm grows in size, it forms what are known as bow echoes—large curved packs of thunderstorms that race forward in one direction. These bow echoes form because the downbursts are stronger in the center of the storm. Stronger downbursts mean faster winds. The faster winds race ahead of the storm, creating a bow. They are impressive to see both on the ground and from the sky.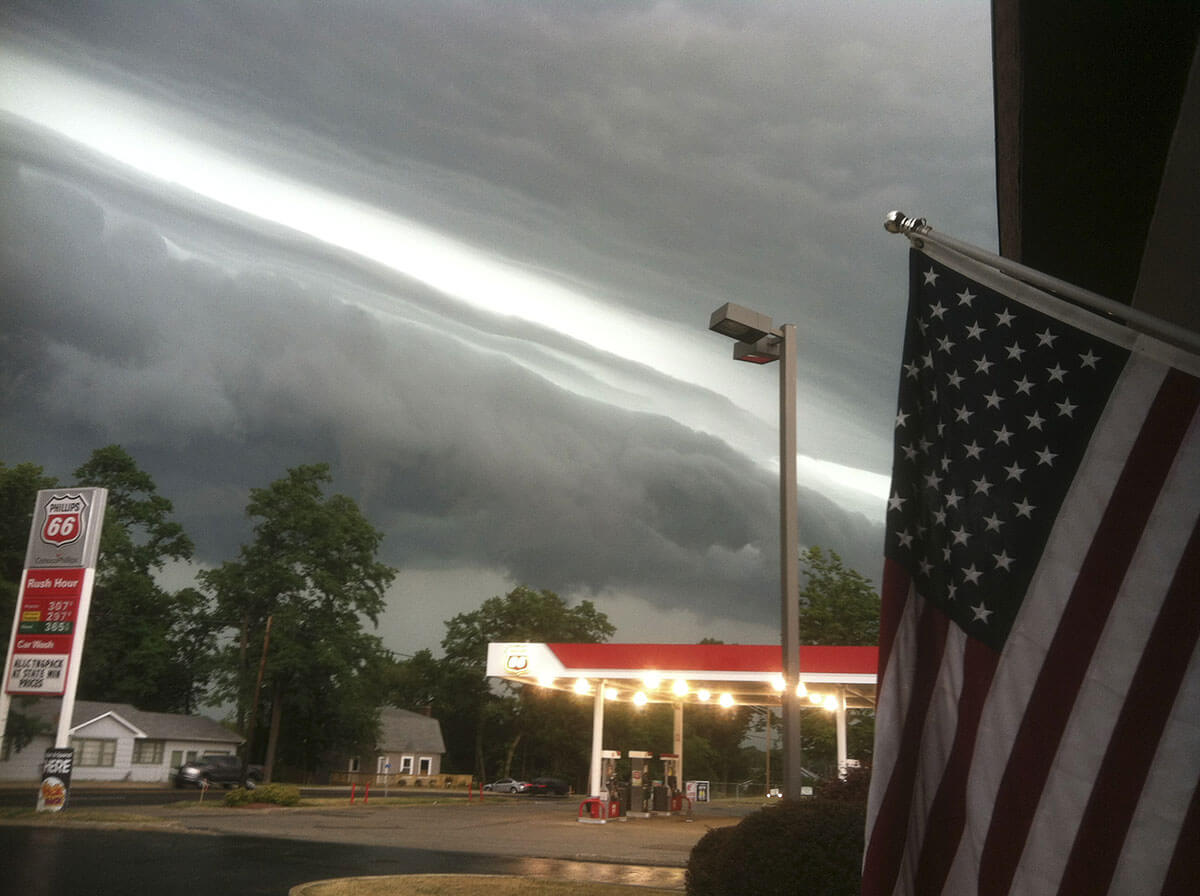 Derechos are most common in the Midwestern United States, but are still fairly rare. You might see a derecho about once a year there. They can occasionally be found all the way up into the Northeast.
The best thing to do in the event of a derecho is to go someplace safe and protected—high winds and falling trees can be quite dangerous!
Can we predict derechos?
Weather satellites can view derechos from space and help communities predict when they might form. Two groups of satellites, the GOES-R (Geostationary Operational Environmental-R) series and JPSS (Joint Polar Satellite System), can take detailed pictures of these storms and make predictions of where they're headed next.