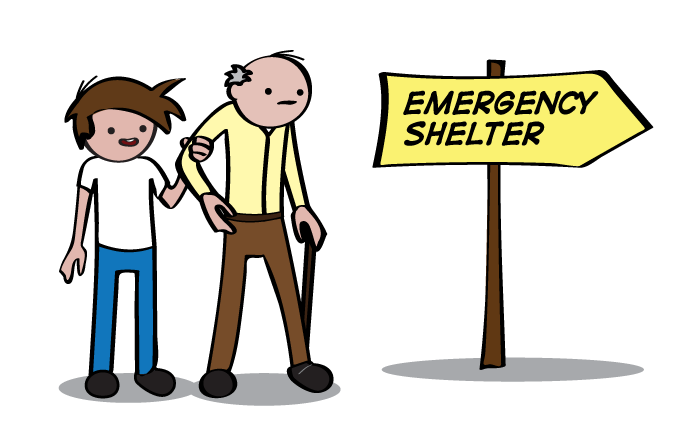 When you hear about a destructive tornado or hurricane, or massive floods that have left thousands homeless, you probably wonder how you could help.
When disaster strikes near home
Before disaster strikes, you may wish to check in on people you know who have special needs. Make sure they are prepared with a Family Disaster Kit and a plan in case of emergency. People with impaired hearing may not be able to hear disaster warnings, and folks who are developmentally delayed or visually impaired may be unwilling to leave familiar surroundings.
If a disaster does occur in your own area, first, make sure that you and your family are safe. Then, you can help disabled friends and neighbors, or older people who may need special medicine and medical equipment. If you and your family have made a plan with people who don't do well under stress, your calm reassurance and help could make a huge difference.
When disaster is far away
If the natural disaster takes place far from where you live, you'll have to stick to long distance assistance. Relief organizations such as the Red Cross are always happy to receive your donations of money and supplies. The American Red Cross has many programs for kids. You can learn how to be a Blood Donor Recruiter, which means you remind family and friends to donate blood regularly.
Your local Red Cross chapter will tell you where people need help and how you can volunteer. You'll have to check with your local office to see what they need. It could be paper goods, like TP and plastic bags, or maybe canned and boxed foods. You might organize a canned food drive, or a special event to raise money, or work on your own, washing cars or babysitting. It's a great way to do your part to help out.
Young people have been assisting the American Red Cross since 1884. When you hear about a natural disaster, contact your local chapter to see what you can do.