The Short Answer:
The trade winds are winds that reliably blow east to west just north and south of the equator. The winds help ships travel west, and they can also steer storms such as hurricanes, too.
When you're outside, you might notice that one day the wind blows one direction and the next day, wind is blowing a different direction. That's a pretty common occurrence.
However, many winds on Earth are quite predictable. For example, high in the atmosphere, the jet streams typically blow across Earth from west to east. The trade winds are air currents closer to Earth's surface that blow from east to west near the equator.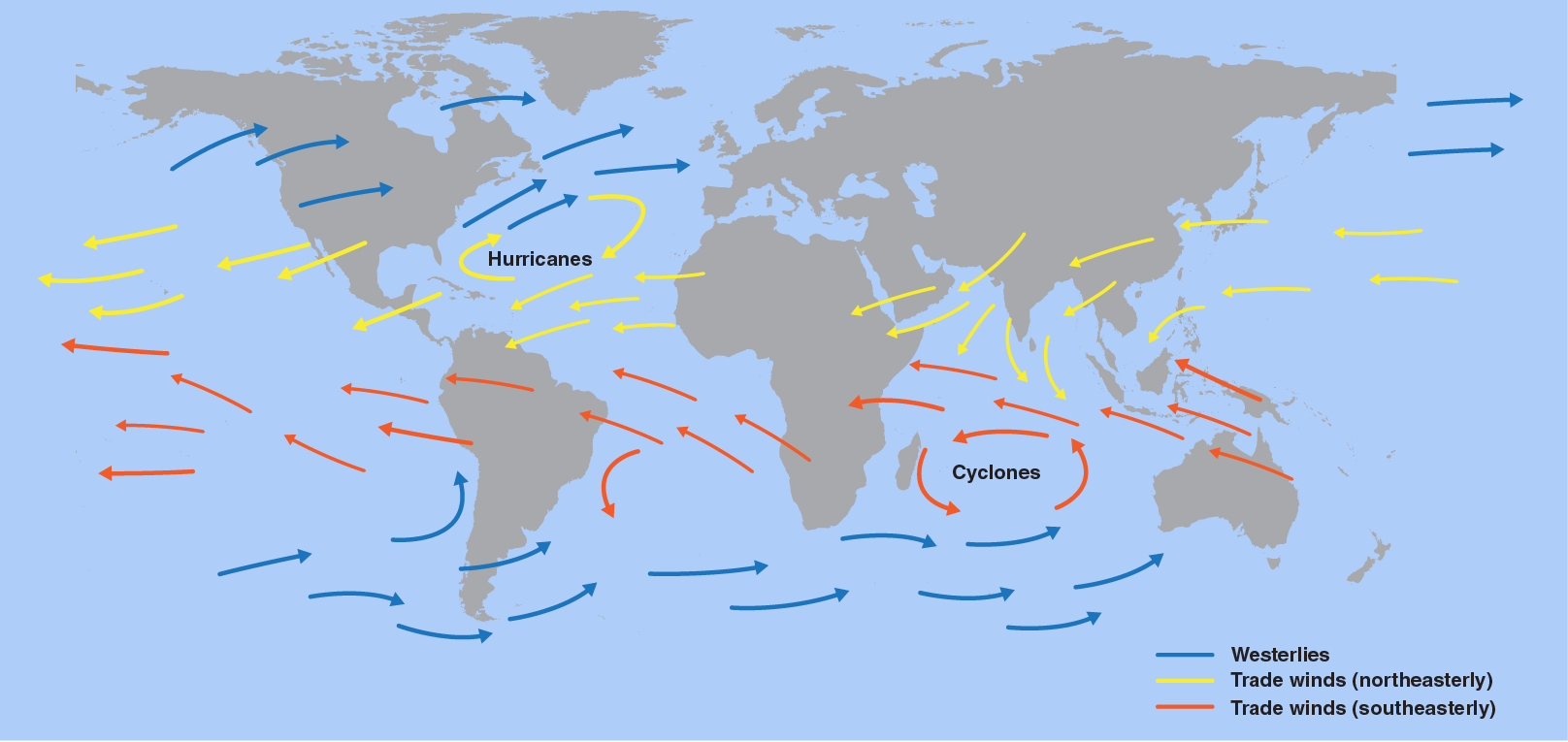 The trade winds have been used by sailors for centuries. Sailors traveling from Europe or Africa used the trade winds to travel to North or South America. Just like airplanes can use the wind boost from the jet stream to shorten a journey flying east, sailors can use the trade winds to shorten a sea journey when sailing west.
Why do the trade winds blow from east to west?
The trade winds blow toward the west partly because of how Earth rotates on its axis. The trade winds begin as warm, moist air from the equator rises in the atmosphere and cooler air closer to the poles sinks.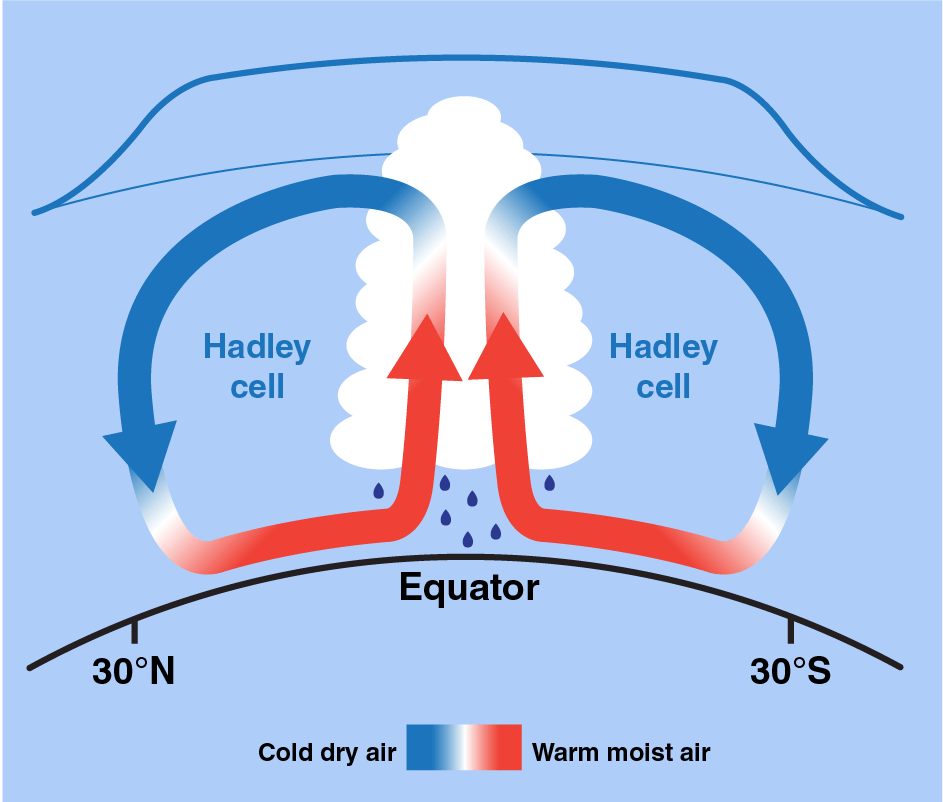 So, if air is cycling from the equator to the poles, why don't all winds blow north and south? That's where Earth's rotation changes things. Because Earth rotates as the air is moving, the winds in the Northern Hemisphere curve to the right and air in the Southern Hemisphere curves to the left.
This phenomenon is called the Coriolis Effect and it's why the trade winds blow toward the west in both the Northern Hemisphere and Southern Hemisphere. The trade winds can be found about 30 degrees north and south of the equator. Right at the equator there is almost no wind at all—an area sometimes called the doldrums.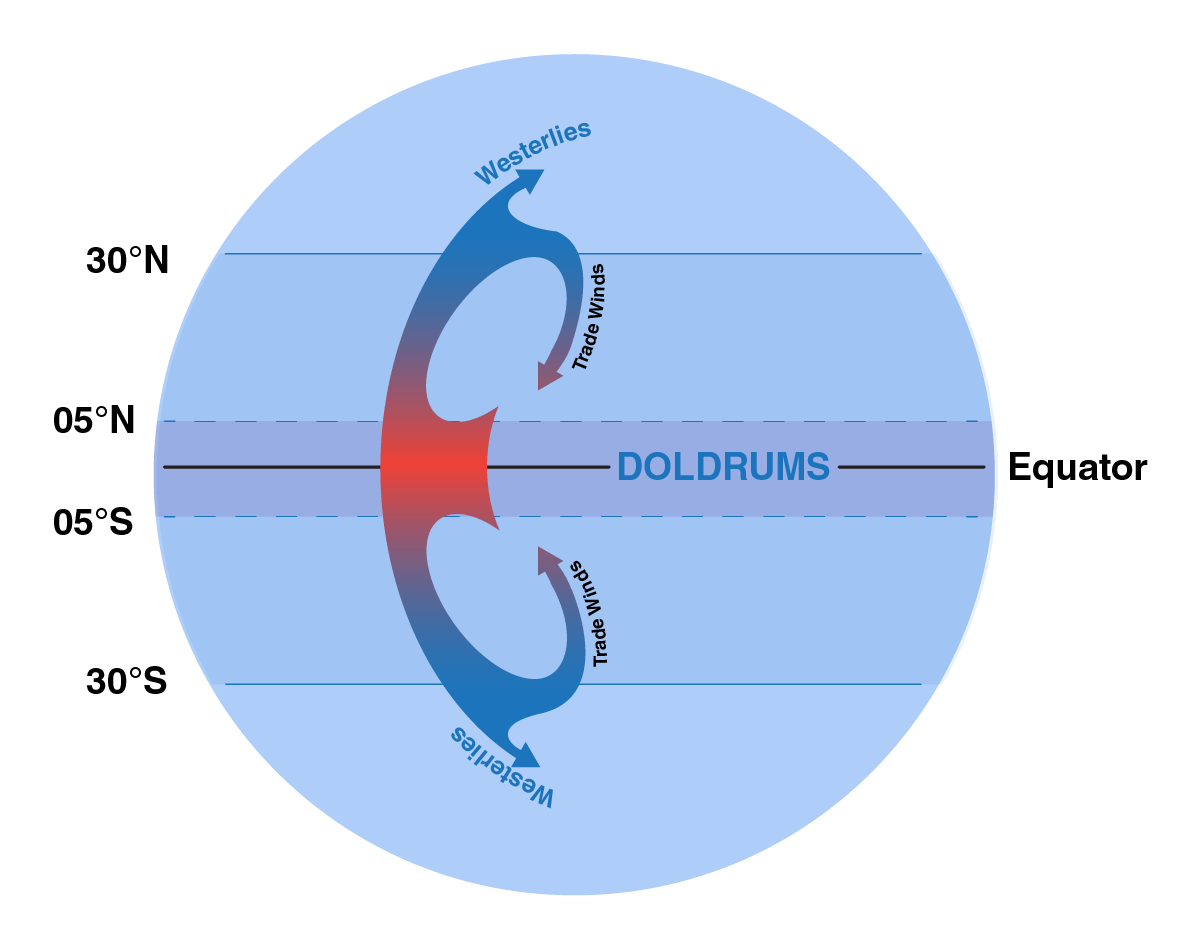 How do the doldrums and trade winds affect our weather?
The Sun shines very directly at the equator, creating very intense heat. The heat warms the air and causes some ocean water to evaporate, meaning air in the doldrums becomes warm and moist. This warm, moist air rises in the atmosphere and cools, becoming clouds — and eventually rain and storms — in tropical regions. In the Atlantic Ocean, some of these storms become hurricanes, and the trade winds can steer hurricanes west toward the United States.
NOAA's GOES-East satellite keeps an eye on how trade winds impact the movement of hurricanes and tropical storms toward the southeastern United States. In this video, GOES-East captured cumulus clouds east of the Caribbean Islands being carried west by the trade winds.