The Short Answer:
Humidity is, in general, a measure of water vapor in the air. Meteorologists typically describe water vapor in the atmosphere in two different ways: absolute humidity and relative humidity. Dew point is an absolute measure and helps us understand how muggy and humid it feels outside.
Imagine: You take a nice, long, hot shower. Stepping out, you feel it's pretty muggy and warm in the bathroom, and the mirror is foggy. You wipe your hand across the mirror and suddenly, your hand is all wet. That's because of the moisture in the bathroom!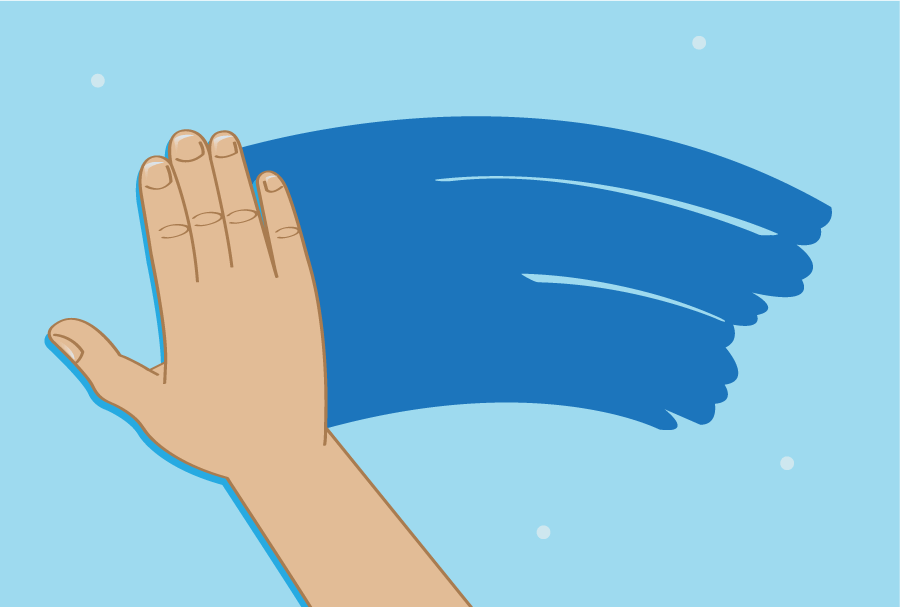 This happens because the foggy mirror is actually tiny droplets of water that have formed on the mirror. When you take a hot shower, water vapor in the bathroom increases due to evaporation from the shower. When that water touches the cool mirror, it condenses back to water, in the form of tiny droplets.
But, what does this all mean? What is humidity? Why does it get humid outside? And how does humidity affect our weather?
First, we have to talk about water vapor. Not knowing what water vapor is would be a MIST opportunity! (Get it?!)
What is water vapor?
Water is a super special substance. It is basically everywhere on Earth – in our soils, our oceans, and our air.
Water exists in three states – liquid, solid, and gas. Liquid water helps hydrate us during a hot day or after a long sports game. Solid water, or ice, is colder and gives us a surface to ice-skate on. Water in its gas form is water vapor, or moisture.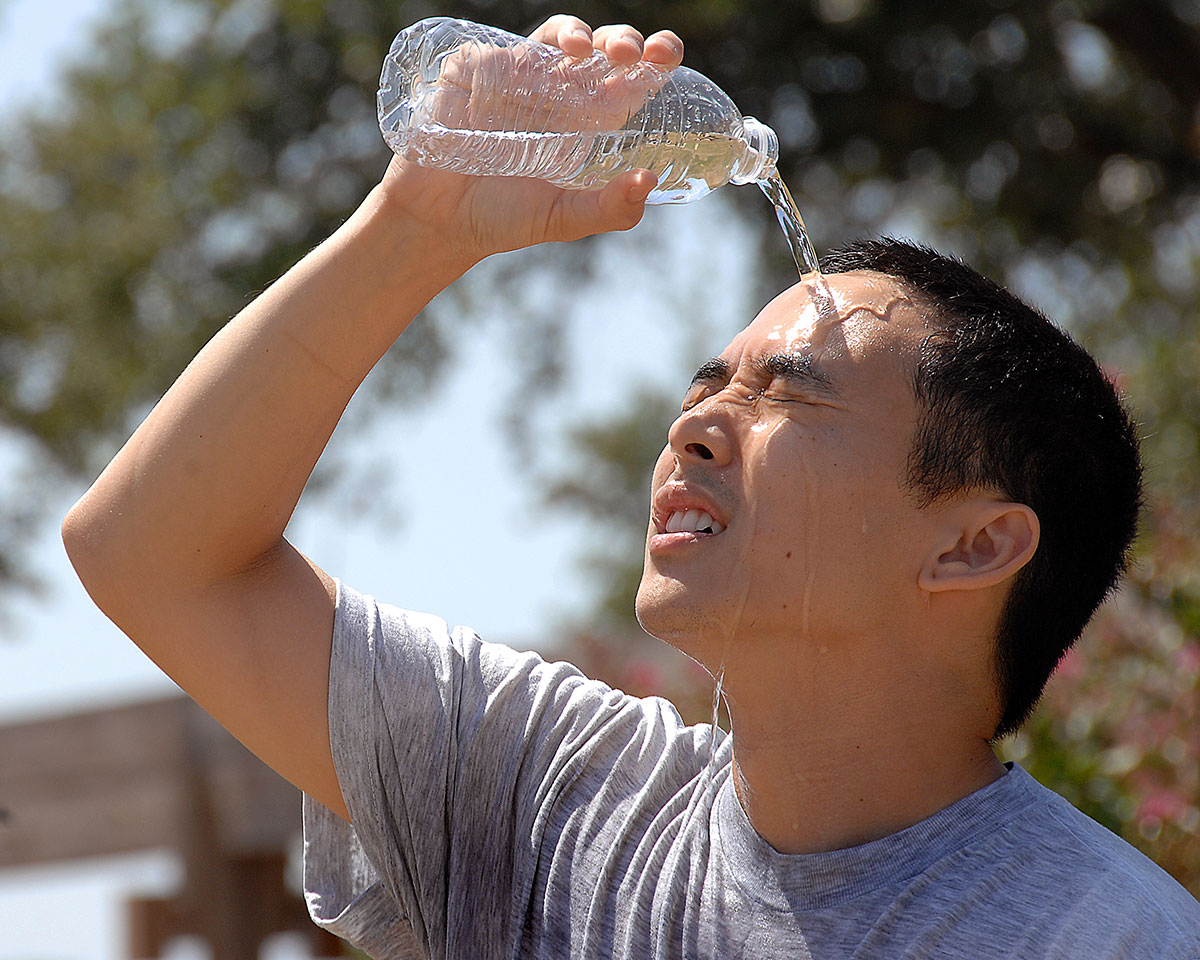 There is water vapor in our atmosphere because of evaporation. Evaporation happens when water changes from a liquid to a gas. Liquid water evaporates from oceans, lakes, rivers, plants, the ground, and fallen rain.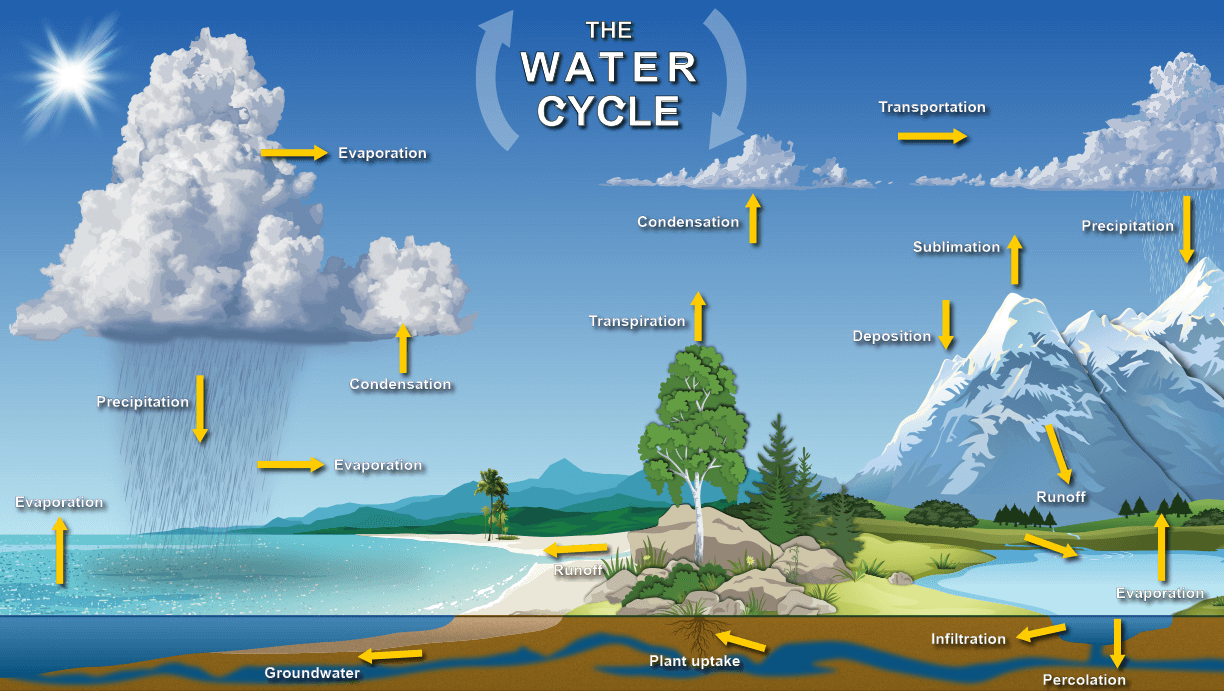 So, what is humidity? Well, there are actually two different types of humidity!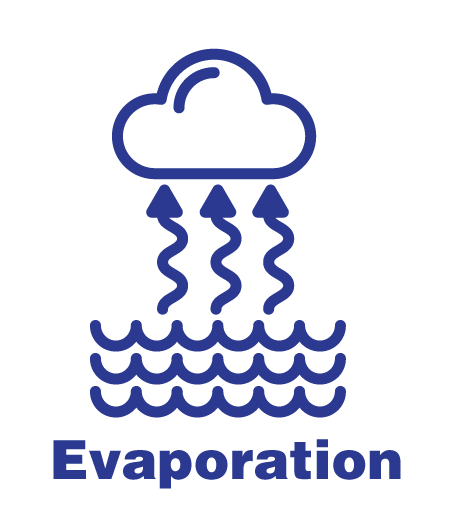 What is absolute humidity?
Absolute humidity is the actual amount of water vapor in the air. The higher the amount of water vapor, the higher the absolute humidity.
What is relative humidity?
Relative humidity also measures water vapor in the air, but it is compared to the maximum amount of water vapor that can exist in the air at its current temperature. It is written as a percent.
For example, warm air can hold more water vapor, or moisture, than cold air. So, with the same amount of absolute humidity, cold air will have a higher relative humidity and warm air will have a lower relative humidity.
The relative humidity is 100% when the air is completely full of water vapor.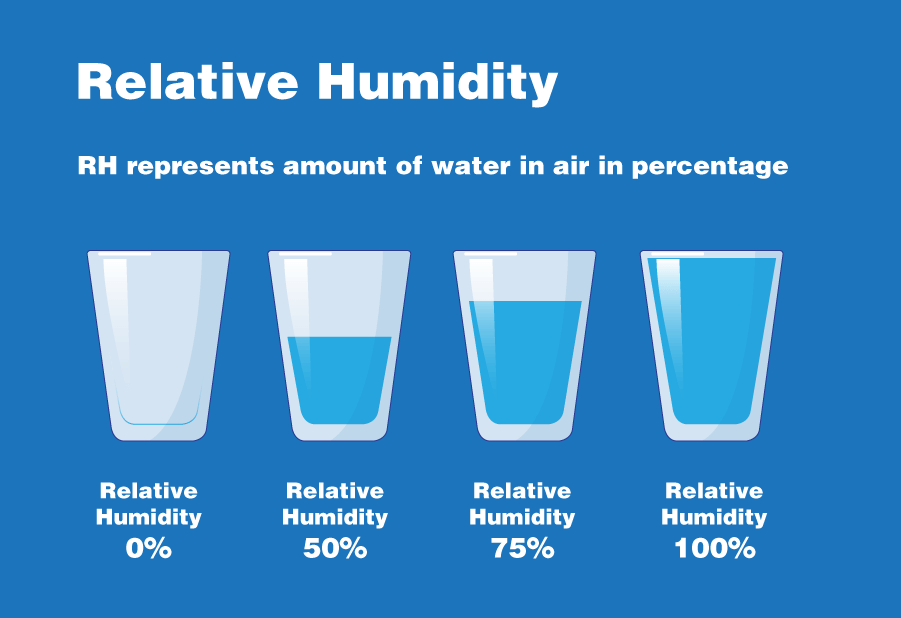 What is dew point?
The dew point marks the temperature at which water vapor will turn into liquid water droplets. This process is called condensation. Condensation is what causes clouds to form, which can then lead to precipitation such as rain, snow, and hail. The dew point will always either be the same or lower than the actual outside temperature.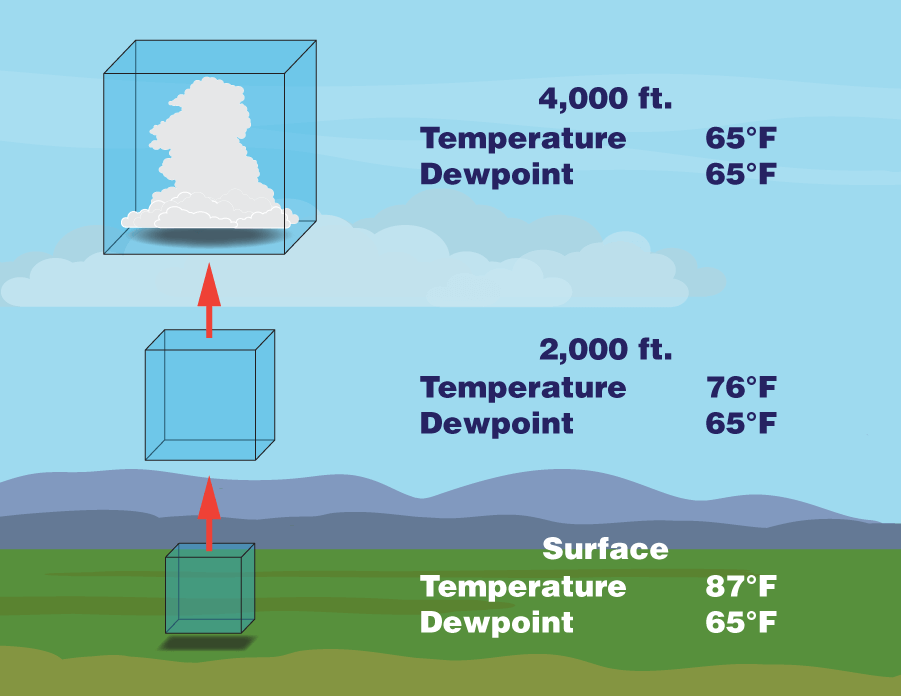 The higher the dew point rises, the greater the amount of moisture in the air. This affects how "comfortable" it will feel outside. So, just reading the relative humidity can be misleading.
Quiz time! Which combination do you think would feel more humid? A 30℉ day with a relative humidity of 100%? Or an 80℉ day with a relative humidity of 50%?
Ready to check your answer? It would feel much more humid on the 80℉ day with 50% relative humidity than on the 30 degree day with a 100% relative humidity. This is because of the higher dew point.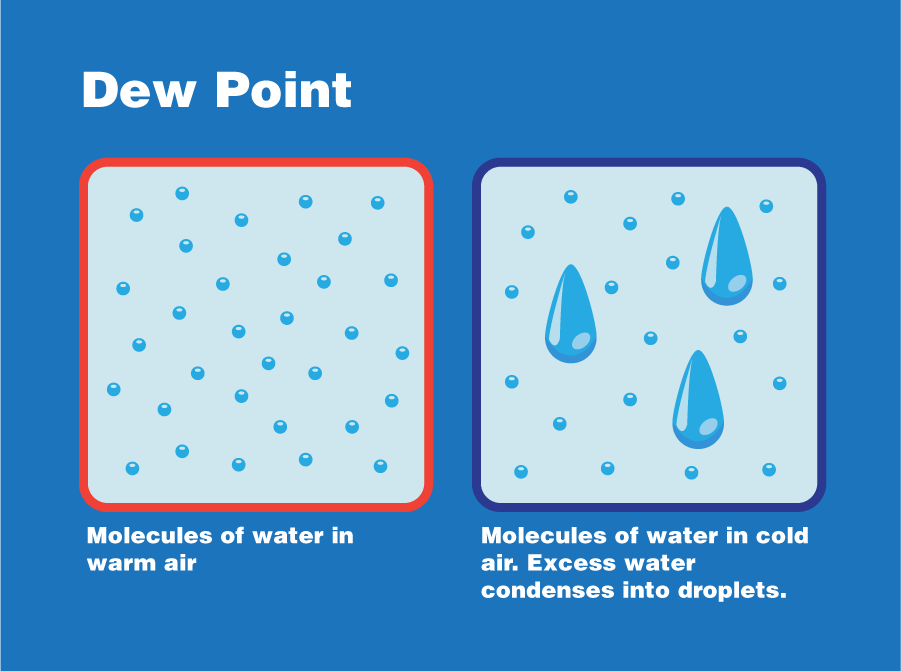 So, if you want to know just how "dry" or "humid" it will feel outside, look at the dew point instead of the relative humidity. The higher the dew point, the muggier it will feel.
Check out the chart below to see the general comfort levels using dew point that can be expected during the summer months!
| | |
| --- | --- |
| Dew Point | Feeling |
| Less than or equal to 55 | Dry and comfortable |
| Between 55 and 65 | Becoming "sticky" with muggy evenings |
| Greater than or equal to 65 | A lot of moisture in the air, very humid and uncomfortable |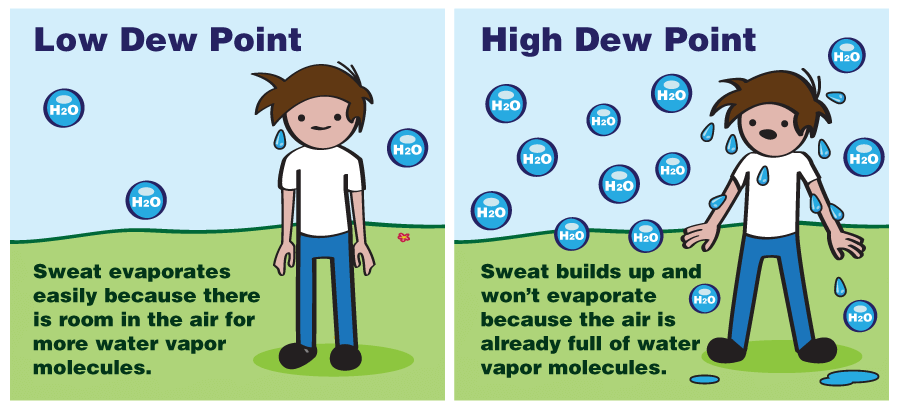 How does humidity affect our weather?
Basically, the more water vapor in our atmosphere, the more possibility of precipitation.
Precipitation happens when the air rises and causes condensation of water vapor into liquid water droplets. This is the beginning of the formation of precipitation! These little droplets grow through a process called "collision-coalescence". During collision-coalescence, these droplets come together and form larger drops. Once the drops are a certain size, they become too heavy for the air and the drops fall as precipitation from the clouds.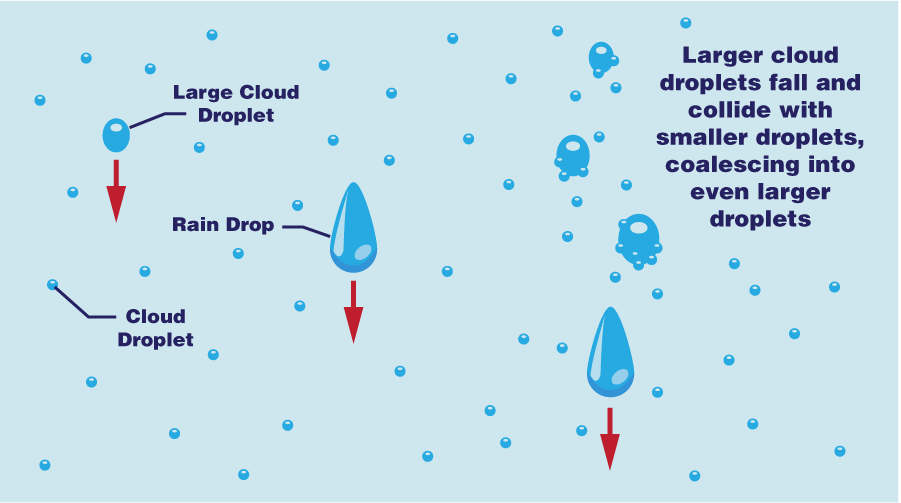 How is NOAA studying humidity?
The National Oceanic and Atmospheric Administration, or NOAA, measures water vapor with its Geostationary Operational Environmental Satellites (GOES) satellites in several ways. For example, NOAA uses a measure called total precipitable water (TPW) to provide information to weather forecasters and hydrologists (scientists who study the waters of the Earth and atmosphere). This information helps improve forecasting for events such as heavy rain, flash flooding, and more.