North America is home to several different climate types. That means the continent is also home to a variety of extreme weather events. Although we experience the effects of extreme weather here on Earth's surface, weather satellites can collect some pretty wild pictures and information about extreme weather from above. Meteorologists use this important information to warn us about extreme weather heading our way.
Here are a few of the most extreme weather events captured over the past few decades by NOAA's Geostationary Operational Environmental Satellite (GOES) program.
Hurricane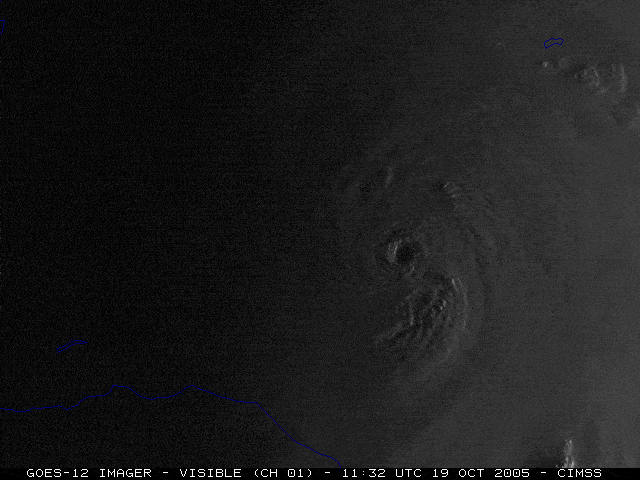 Hurricane Wilma hit the Caribbean and southern Florida in October 2005. It was the most intense Atlantic hurricane in recorded history. During Hurricane Wilma, meteorologists recorded wind speeds of up to 185 miles per hour. They also recorded the lowest ever air pressure reading on the Atlantic Ocean.
This image from NOAA's GOES-12 satellite shows this destructive storm. At peak intensity, the eye of Wilma was only about 2.3 miles in diameter, the smallest eye ever to be observed in an Atlantic hurricane. When a hurricane's eye shrinks to a small size, it often means that the storm is becoming more intense.
Learn about how hurricanes form!
Tornado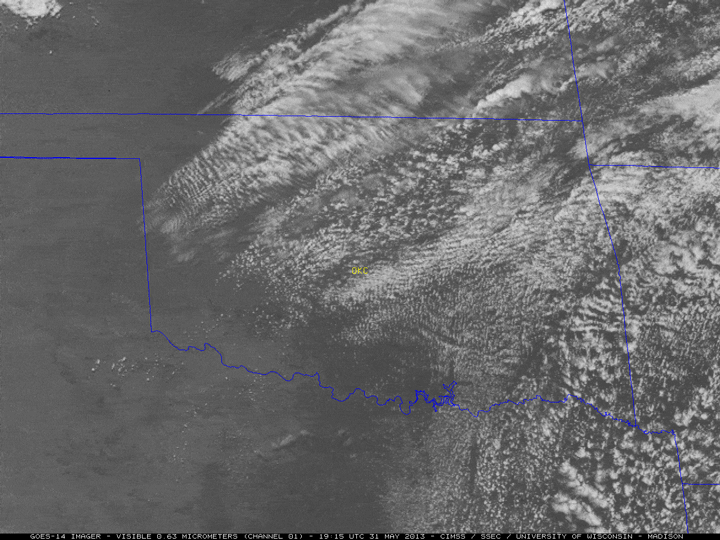 At 2.6 miles wide, a May 2013 tornado in El Reno, OK was the widest tornado on record in the United States. This tornado also had some of the fastest wind speeds ever recorded for a tornado—nearly 300 miles per hour.
The imagery above was captured by the GOES-14 weather satellite. In the animation, you can see thunderstorms growing rapidly near Oklahoma City. These thunderstorms produced the El Reno tornado, several other tornadoes, heavy rainfall and flash flooding.
Learn about how tornadoes form!
Thunderstorms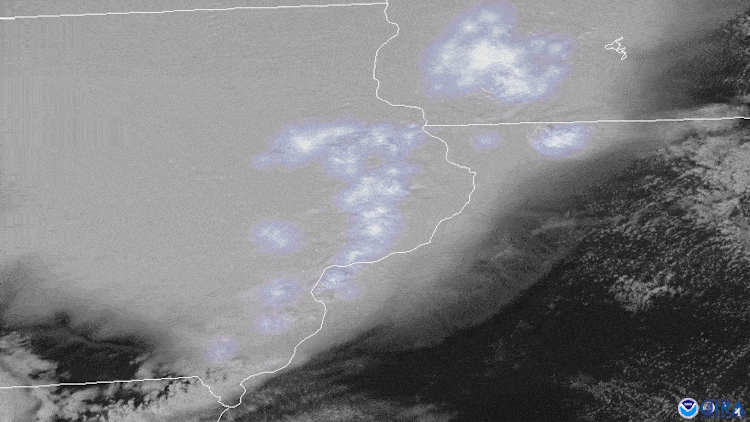 One of the most expensive storms in United States history was the August 10, 2020 derecho in the American Midwest. Derechos are fast-moving bands of thunderstorms with destructive winds that follow straight lines. The derecho traveled from South Dakota to Ohio—approximately 770 miles—and produced wind gusts of more than 90 miles per hour. More than a million homes lost power in this derecho.
This animation was captured by NOAA's GOES-16 weather satellite. Here, you can see the long line of storm clouds moving across the Midwest. The many flashes of lightning were captured by an instrument on GOES-16 called the Geostationary Lightning Mapper.
Learn more about derechos!
Learn about what causes thunder and lightning!
Learn about what causes a thunderstorm!
Firestorms
A firestorm occurs when heat from a wildfire creates its own wind system. This phenomenon can lead to very strange weather effects. For example, if a fire is big enough, it can form a pyrocumulonimbus cloud. This is a rare form of storm cloud that occurs when there is an interaction between a large fire and the environment. These clouds can produce lighting, strong winds, rain, and even tornadoes!
On May 11, 2018, three days after a large wildfire started in Texas, a pyrocumulonimbus cloud formed nearby. This cloud produced a severe thunderstorm that caused hail to fall in the surrounding areas. In this animation made with imagery from the GOES-16 weather satellite, you can watch the cloud form from the fire's smoke and heat.
Blizzard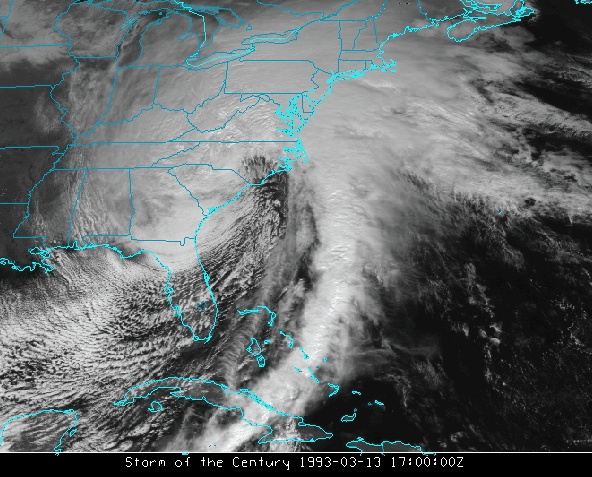 In March 1993, the East Coast of the United States experienced the costliest winter storm in U.S. history. The snow and ice from this storm caused so much damage that this event became known as the "Storm of the Century."
The storm stretched from the southern states all the way up to the Northeast, impacting nearly 120 million people. Snow fell at 2 to 3 inches per hour in some areas with several locations reporting more than 4 feet of snow in total. In some regions, the snow was followed by several inches of sleet, which froze on top of the snow.
NOAA's GOES-7 weather satellite captured this imagery of the storm as it dumped snow and ice over the entire East Coast.
Learn more about rain, snow, ice and hail in this infographic!
Bonus: Not only do we have extreme weather on Earth, but eruptions from the sun can cause storms in space, too!
Space Weather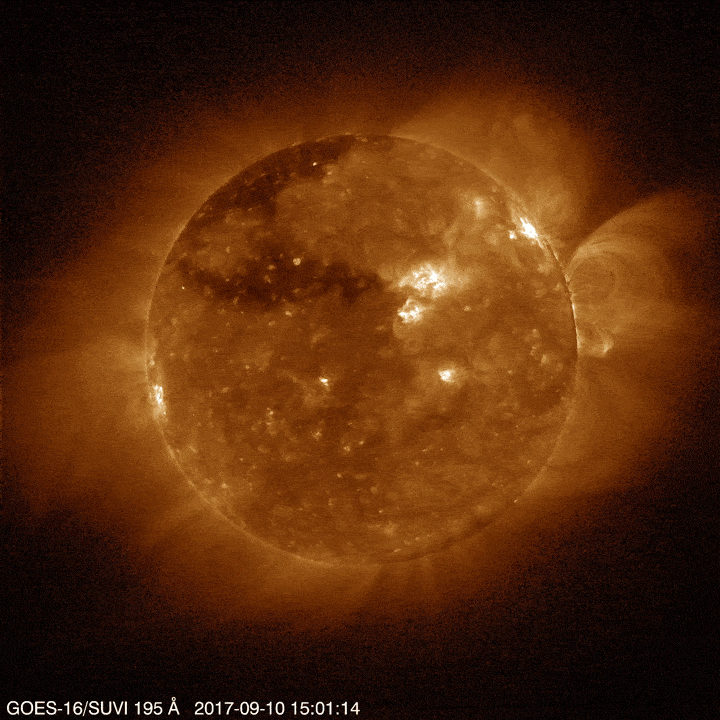 Space weather is a kind of weather that is caused by the sun. Our sun is constantly sending particles and energy across the planets of our solar system. Sometimes it lets off a large burst of energy called a solar flare. An even bigger burst of energy is called a coronal mass ejection. Those bursts can damage satellites, power lines, and radio communications, so it's important to keep an eye on them.
On September 10, 2017 the GOES-16 satellite used its Solar Ultraviolet Imager (SUVI) to capture this video of a large solar flare. You can see the flare beginning as a bright spot on the right side of the image. The bouncing flare causes structures in the sun's outer layer, called the corona, to sway back and forth.
Learn more about space weather!
Learn about how weather on the sun affects us!